SARASOTA ORCHID SOCIETY PROUDLY SUPPORTS WILD ORCHID MAN FILMS
The Sarasota Orchid Society is the fiscal sponsor for the widely acclaimed Wild Orchid Man film series, a collaboration between world renowned orchid taxonomist and artist Stig Dalström and award-winning filmmaker and composer Darryl Saffer. The duo's first film, Wild Orchid Man In The Ghost Orchid Swamp, was filmed in South Florida. The enthusiastic response to this film encouraged them to seek the support of the Sarasota Orchid Society, a non-profit organization that also supports conservation, biodiversity, and education to expand the series. This relationship has produced Wild Orchid Man In The Mountains Of Amazonas, Wild Orchid Man In The Land Of The White Bear and The Wild Orchid Man – Journey To Machu Picchu.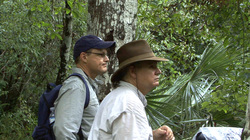 Stig Dalström, the Wild Orchid Man, and filmmaker Darryl Saffer seek out rare wild orchids in their native habitats.
Learn more and purchase the four Wild Orchid Man Movies here